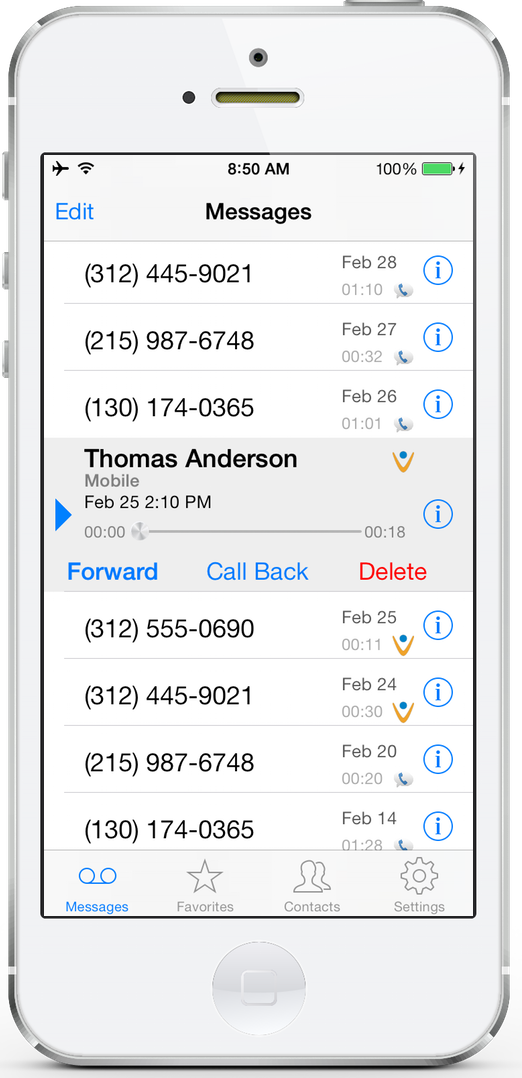 VoiceMail Inbox
Automatically download voicemail messages stored in your email account. Play back messages at any time, search through voicemail transcripts, and integrate with contact list. Subscription to any service other than email and your VoIP provider is not required.

Download voicemail from email
Download and store on your device voicemail messages from your email (Gmail) account. Currently supported VoIP providers include Vonage, Google Voice, YouMail, Roger's, Worldline, and CCBMobil
No Extra Service Subscriptions
Subscription to services other than Gmail and your VoIP provider is not required. Gmail credentials are stored on your device and exchanged only with gmail.com service.
Smart Search
Easily search and filter voice mails by key words in voicemail transcripts, phone numbers, and associated contact names.
Forward Messages
Forward downloaded voicemail messages via email to any recipient.
Address Book Integration
Add phone numbers to the address book stored on your device directly from the application.
Callback
Initiate call back, email, or text messages to voice mail originators from within the app